Supelco® portfolio: Reliable and reproducible analytical solutions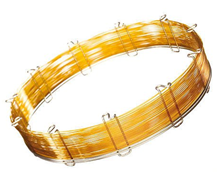 LC-MS workflow


A comprehensive portfolio for consistent results

We offer a premier selection of proven analytical tools and consumables that meet the requirements of scientists who primarily use the LC-MS technique, either for separation and analysis of drugs and biomolecules, or for analytical assays.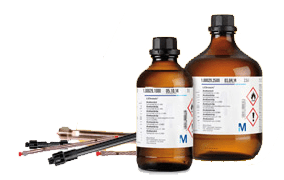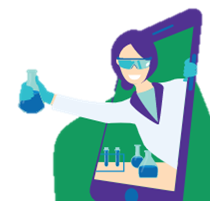 Analytical standards and certified reference materials
For precise calibration and validated results, our portfolio of over 20,000 products include standards for every application, from environmental, petrochemical and pharmaceutical to clinical diagnostic and toxicology, forensic, food and beverage, GMO standards, cosmetic and veterinary.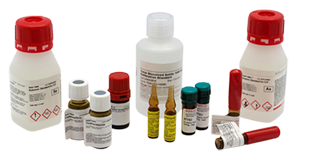 Industry-specific Supelco® Solutions
Product to Increase Throughput & Productivity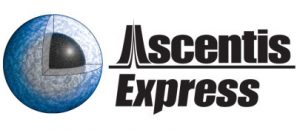 Solid Core Column (2.0um, 2.7um and 5.0um particle size)
Finally a column product line that can be used in both systems of UHPLC (UPLC's) and HPLC systems. One column for all. The Ascentis Express is an addition to the long line of superior Supelco technology columns but with solid core particles. These columns offer a much higher efficiency as compared to conventional fully porous particles and are considered the next step for chromatography columns of the future. Higher efficiencies means better separation power between analytes with lower backpressure enabling faster analysis while meeting demanding separation requirements. All in all far better peak shapes.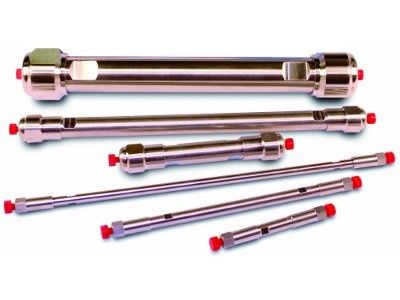 Comes in either 2.7um particle sizes (suitable for both UHPLC/UPLC and HPLC) systems as well as 1.6um particle sizes (solely for UHPLC/UPLC) systems. Added bonus, 5.0um particle size columns also available for users that simply are reluctant to change their method.
Comes in 12 different chemistries for octagonal separations which covers analysis for small molecules right up to biomolecule separations.
Various column dimensions of different internal diameter and length available.
A D V A N T A G E S  A N D  B E N E F I T S
Exceptional peak shape and loading capacity
Improve signal-to-noise performance
Chemically stable at low pH
Higher efficiency
Increased resolution
Scalability from UHPLC/UPLC to HPLC
Seemingly lower back pressure as compared to fully porous particle columns
Lot to lot reproducibility and longer shelf life
2.0um particle size core shell technology gives 40% higher efficiency as compared to fully porous 1.7um particles
2.7um particle size core shell technology gives 90% efficiency as compared to sub 2um fully porous particles
5.0um particle size column provides efficiency higher than that of fully porous 3.0 particle size of the same dimension with lower backpressures. Design specifically for those chemist who are reluctant to change their method but looking into far better efficiency as compared to fully porous 5.0um particle size column
More rugged column, longer shelf life and not easy to clog
ASCENTIS EXPRESS SOLID CORE COLUMN
Maximize Speed with Sharp Peaks
More Peaks in Less Time
Faster Throughput With Rugged Design
Wide Range of Particles and Phases
ASCENTIS EXPRESS FUSED-CORE PARTICLES AND PHASES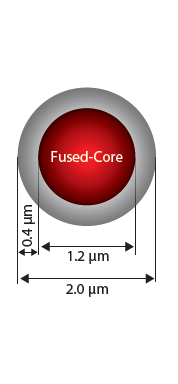 Best Fused-Core UHPLC Column
An optimized solution for high-throughput small molecule analysis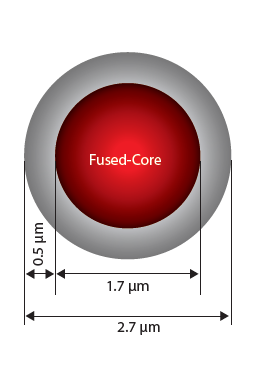 Fast HPLC on ANY System
A practical solution that delivers UHPLC performance from any HPLC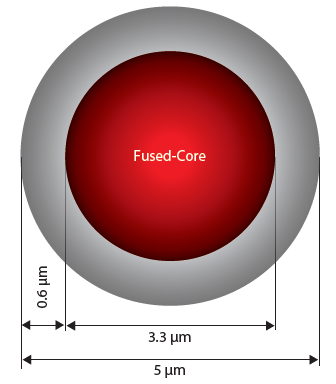 The Lab Work-Horse Column
True plug and play solution for improving existing 3 or 5 um fully porous particle HPLC columns
Selecting the Optimal Ascentis Express Column