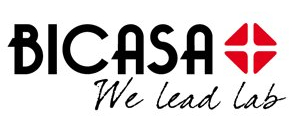 Lab Engineering for Industry
Since 1947 a leading supplier for laboratory market. 
Settled in Sesto S. Giovanni (Milan), Bicasa starts its own rise in 1947 from the initiative of the two founders, Luigi Biffi and Giuseppe Casiraghi. Following a constant innovation, Bicasa becomes a successful enterprise in glassware processing (blowing), scientific instruments manufacturing and technical furniture designing, employing up to 100 human resources with 18 000 produced items.
Tradition and experience have been knowing a permanent renewal till third generation, making Bicasa a leading supplier in Italian market for laboratory furniture. The international markets presence is assured by an open-minded view of globalization, focusing on foreign market needs.
Functionality and ergonomics
Our furniture systems have been developed by one of Europe's leading specialist furniture designers to combine ergonomics, durability and function with a modern, clean crisp and attractive appearance.
Alternative benching systems combine with a range of worktop materials, including mechanical and electrical servicing levels to satisfy the differing requirements of scientific disciplines ranging from microbiology to metallurgy.
Conventional Fixed Pedestal Range is a highly cost effective system which maximises under bench storage.
Column System supports the worktop independently of worktops by use of cantilever leg frames, which allows storage cupboards to be moved around for cleaning and maintenance.
C Frame System* provides worktop support, allowing free movement of storage units which can be push under or suspended clear of the floor.
Selection can be made from the state of the art Exemplaire System and the highly cost effective Utilaire System.
We have specialist worktop fabrication capability and a wide range of different materials with different qualities is available to suit diverse applications. The worktop is the most heavily used component in any laboratory furniture system and selection is an important aspect of any design.
We will give careful consideration to user applications and based on that and many years experience, we will provide an honest critique of the advantages and disadvantages of the options available.
Solid Grade Laminate (Trespa Athlon and Toplab) – a flat, stable general application material with good impact resistance.
Solid Surface (Corian and Polylab) – a flat, stable material with seamless jointing capability and particularly suited to clean applications.
Cast Epoxy Resin (Simmons and Durcon) – good chemical resistance and most widely used in fume cupboards.
Other materials such as post formed plastic laminate, hard wood ( sourced from FSC approved suppliers), stainless steel, polypropylene and toughened glass are also favoured for some applications.